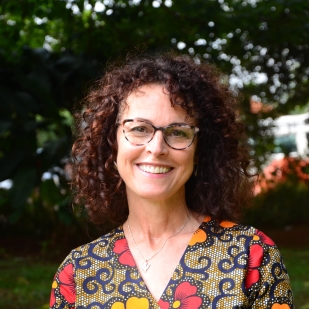 Jennifer Montgomery is a subject matter expert on human trafficking, gender-based violence, sexual exploitation and complex trauma and has more than two decades of experience in public policy and communications. She is a writer, visual artist, changemaker and leading voice for efforts to create trauma-informed, inclusive and empowering approaches to conflict resolution and community peacebuilding. She currently works in the Office of Kansas Attorney General Derek Schmidt and serves as Chair of the Kansas Human Trafficking Advisory Board. Jennifer is deeply committed to helping others transform conflict into avenues for peace and reconciliation in communities in Kansas and across the globe
.
Focus of Social Change Initiative
Jennifer implemented a Social Change Initiative titled Arts, Restorative Justice and Sexual Violence Prevention in Kisenyi Slum. She used art, hand skilling and mediation training as a process for resolving crime. The initiative focused on redressing the harm done to the victims, holding offenders accountable for their actions and engaging the community in the resolution of the conflict in Kisenyi Slum.
.