March 18, 2023
Posted by:

Joseph Mugerwa

Category:

CENTRE UPDATES
Left-Right: Paul Mushaho (Cohort 1), Stephen Sempande (Cohort 1) and Gorett Komurembe (Cohort 2) while representing the fellows during the graduation ceremony.
In February 2023, the Makerere University Rotary Peace Center successfully graduated its first and second cohort of peace fellows during the 73rd graduation ceremony of Makerere University.
A total of 30 Rotary Peace Fellows attained the award of a Post Graduate Diploma in Peacebuilding and Conflict Transformation. Among the fellows were 15 from cohort one and 15 from cohort two, with a percentage of 47% female and 53% male.

Peace Fellows pose for a photo during the 73rd Graduation at Makerere University. Left-Right: Dr. Barbara Alungat (Deputy Commandant of the Police Senior Command and Staff College-Bwebajja), Dr. Veneranda Mbabazi (Head of Department, School of Liberal and Performing Art), Prof. Helen Nambalirwa Nkabala (Director, Rotary Peace Center), Mrs. Lorna Magara (Chairperson, Makerere University Council), Stephen Sempande (Cohort 1 Peace Fellow), Gorett Komurembe (Cohort 2 Peace Fellow), and Paul Mushaho (Cohort 1 Peace Fellow).
3rd Capstone Conference
From February 27 to March 3rd, 2023, the Rotary Peace Center at Makerere University hosted its third Capstone conference. During the weeklong programme, Cohort 3 Peace Fellows presented reports on the social change initiatives they had implemented in their respective local communities for period of 9 months.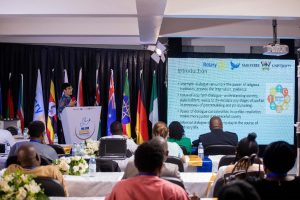 Aung Than Oo from Myanmar, while presenting his Social Change Initiative report on Promoting peacebuilding and social cohesion by interfaith dialogue among local society at grass root level and other faith groups in conflict affected area of Myanmar.
The fellows also engaged in a series of events centered on networking, building resilience and creating change agents for respective communities. During the week, fellows engaged in a one-day Leadership seminar that focused on "The Paradox of Survivor Leadership in difficult settings and Emotional Intelligence as a Peace Building Tool". The 3rd Capstone Conference was held under the theme of "Achieving Peace through collaboration and community engagement."

In the picture, Cohort 3 Peace Fellows pose for a photo with a cross-section of representatives from Rotary, the Nigerian Embassy, Somalia Embassy and Kenyan Embassy.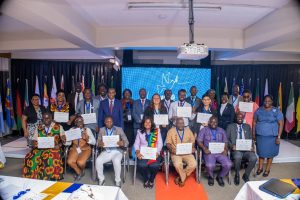 Cohort 3 peace Fellows pose for a photo with Members of the Advisory Board for the Rotary Peace Center during the 3rd Capstone Conference.
The Peace Center receives 20 fellows for its Cohort 5 from 15 countries
In February 2023, the Center was delighted to welcome twenty Rotary Peace Fellows for its firth cohort from fifteen countries for their onsite study programme at Makerere University. During the onsite study programme, the Peace Fellows will study for a period of three months and engage in different experiential study activities that address issues of conflict in African communities, Climate Change, Culture, Religion, Refugees, and the Post-genocide era in Rwanda.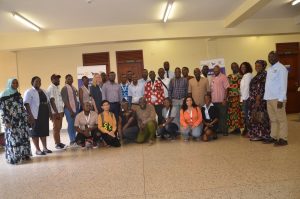 Cohorts 5 and 3 Peace Fellows pose for a group photo with the Rotary Peace Center management team.