May 21, 2021
Posted by:

rpc_admin

Category:

Uncategorized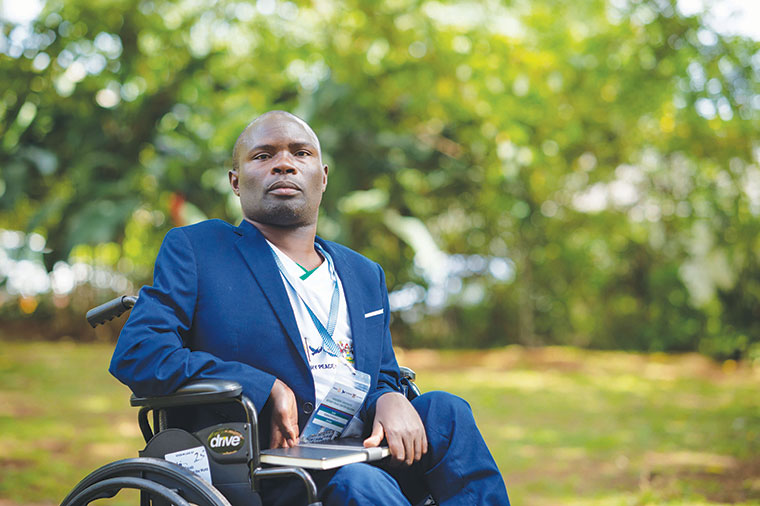 Source : Observer
On the 100th anniversary of Rotary International's birth in Africa this year, a "Peace Centre" in Africa, the first of its kind, has been set up at Makerere University.
The centre will largely train "Peace Fellows" in promoting peace the world over. Conflict, violence, or persecutions escalate the refugee crisis, displacing about 79.5 million people around the world, according to the United Nations High Commissioner for Refugees.
In fact 40 percent of refugees are children, while 85 percent of the refugee population is found in developing countries, more-so Africa. It is against that background that Rotary has set up the eighth Peace Centre in the world, based at Makerere University. Rotary intends to inject US$12 million.
By the end of April, when this initiative was announced at Speke Resort Munyonyo, about US$400,000 had been raised, which underscored Rotary's commitment to drum up calls for peace, Rotarian Emmanuel Katongole said.
Rotary looks at peace in a totally different prism –it pitches a new narrative: peace is not about having no war. Ronald Kasule, 41, knows that only too well. Kasule was among the first lot of 13 peace fellows to snap up a 10-week Diploma in Peace Building and Conflict Transformation at the College of Humanities and Social Sciences at Makerere University. Kasule hardly knows real peace in his life.
Kasule became crippled at the age of three after suffering a heavy bout of fever at the time.
"I first realized I was a cripple when my peers were going to school, yet for me I remained at home. So, I kept pestering my mother to induct me in school. But she said I couldn't manage since it was quite far, and I would struggle to crawl."
Kasule didn't give up, he persisted. On his first crawl to school, rain pelted him to the point of destroying all his books. Frustrated at the age of eight, Kasule grudgingly accepted to stay home. But he struck gold in the late 1980s; ActionAid gave him a wheelchair. He joined Kampala School for the Physically Handicapped in Mengo, where he excelled. He got eight aggregates in his Primary Leaving Examinations in 1993.
He was admitted at Kibibi SS in Mpigi. But when he reported to school in 1994, the head teacher stopped him from heading to the dormitory once he realized Kasule was a cripple.
"The man said I was going to fail his school; so, he had to cancel my admission. I returned home in Mityana and waited for two years until a new school in the neighborhood was started called Nabunga SS Kakindu," Kasule said.
Nabunga SS turned out to be Kasule's saving grace. In 1998, he did his Senior Four exams, scoring 19 aggregates. Kasule went to St Kizito High School Kabowa in Ndeeba for senior five. He did History, Economics, Geography and Divinity (HEG/D) before joining Kibibi High School, where he completed his A-Level in 2000, scoring 12 points.
Although Kasule had his sights on pursuing a bachelor's degree in Law, he ended up doing a Diploma in Community -Based Rehabilitation at Kyambogo University. He later upgraded to a degree in Adult and Community Education, at Makerere University in 2009.
Kasule has beaten many odds. "If it had not been for my persistence in life, I would never have gone anywhere. But imagine how many disabled people continue to suffer marginalization. There is no peace in their lives. For me, I used to be told that the best I could be was a cobbler. I guess the presupposition was that since I crawl, I am best suited to such work," Kasule said.
Kasule's accomplishments include; a master's degree in Educational Planning, Economics and International Development from the University College London in 2012, which simply highlights the abundance of opportunities out there for the disabled people.
Through Rotary, Kasule pursued peace studies with students from the UK, DRC, Zimbabwe, Zambia, Burundi and Liberia, among others.
"The State Department took me to the USA in 2018 to learn about how people with disabilities there live in the wider society. By the time I returned, I realized, that here, they were suffering all their lives."
"Therefore, there is no peace for them, when they cannot access education, jobs and even medical facilities, especially where there are no special provisions for them like ramps, to ease their movement, Kasule noted.
He said disabled people are never offered reproductive health education. Instead many are sterilized without their knowledge, because people believe disabled people must not produce children. Kasule started Access for Action Uganda, an organization pushing for inclusive action and policies to aid disabled people.
"Last year, we wrote a proposal and secured a $10,000 grant to push through activities that foster social change for people with disabilities, so that they can also live a normal life right from the time they are young,"

Kasule said
He said his mother and his peers accepted him, they played with and carried him. But his father wanted him dead.
jovi@observer.ug