January 21, 2020
Posted by:

rpc_admin

Category:

Uncategorized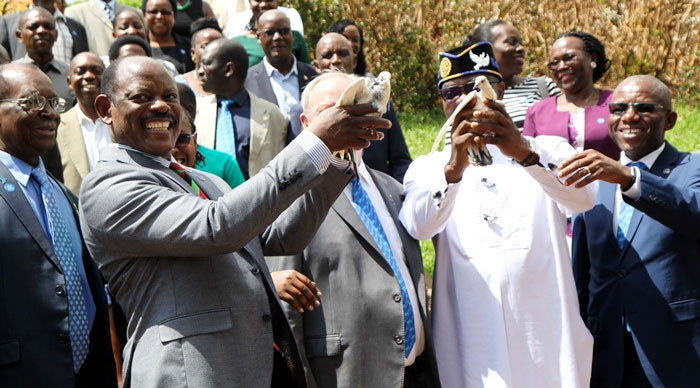 The first Rotary peace centre in Africa is set to start operation after Makerere University and Rotary International held a signing ceremony and media launch on January 9.
The official launch of the centre and its programmes will be in September, to be presided over by minister of Education and Sports Janet Museveni.
A memorandum of understanding between Makerere University and Rotary Peace Centres was signed in the Council Room. Signatories were Makerere University vice chancellor Barnabas Nawangwe, Rotary Peace Centres chairman Bryn Styles and Rotary International vice president Yinka Babalola.
Those who wish to be fellows of the centre can apply online starting in February 2020 and the first class will start in February 2021. There here will be two cohorts a year each with 20 fellows.
Makerere has provided physical, utilities and human facilities whereas Rotary will provide the funding for the training and mentorship through its member clubs. Funding includes air ticket/travel, tuition and accommodation.
"We have already set up the necessary infrastructure, including the space where students will study and one of our postgraduate halls for residence, among others. I am particularly grateful to Dr Hellen Nkabala who used her own money to renovate the building that will be the administrative headquarters," Nawangwe said.
Nawangwe said Makerere had beaten worthy competitors; the Kofi Annan International Peace Keeping Centre, Ghana and University of Nairobi African Leadership Centre. He thanked the Rotary fraternity of District 9211 for their support during the competition and their contribution hitherto.
MAKERERE'S EXPERTISE
He stressed that Makerere already had expertise in the peace and conflict area.
"We've had frequent experience with conflict; so, we established our peace program more than 15 years ago to expand our expertise and augment our engagement in the area of conflict and peace. Partnering with an international organization like Rotary allows us to demonstrate on a global scale what we've been doing in our local environment. Based on our past rich experience, we can confront strife in populations all over the world."
He said the director of the peace centre will be Dr Hellen Nambalirwa Nkabala, a senior lecturer in the department of Religion and Peace Studies. He then unveiled the centre's advisory board; comprising: Prof. William Bazeyo (Chairperson), Dr. Umar Kakumba (Deputy VC – Academic Affairs), Dr. Josephine Ahikire (principal – CHUSS), Prof. Grace Kyomuhendo Bantebya, PDG Emmanuel Katongole and PAG Hon. Mike Sebalu. Others are PAG Ann Nkutu, PAG Fred Masadde-Kabuye, Henry Mwebe (director – Legal Affairs), Dr. Patrick Mangeni, Prof. Sylvia Antonia Nannyonga-Tamusuza and Victoria Kirunda Kobel.
CERTIFICATE OR DIPLOMA
The director, Nkabala, told The Observer that it will be a one-year postgraduate certificate, and a diploma if fieldwork is completed. Nkabala said the training is open to anyone in any discipline, but mainly for peace and development leaders or professionals with proven five-year experience from Africa or having worked in Africa; the goal is to address the underlying challenges to peace on the continent.
The program codenamed 'Peacebuilding, Conflict Transformation and Development' will entail theories and solutions relevant to Africa and hands-on experience to complement coursework that addresses topics including human rights, governance, role of the media in conflict, refugees and migration, as well as resource and identity-based conflicts.
Bryn Styles said Makerere's will be the seventh peace centre in the world. He said, every year, Rotary awards 130 fully-funded scholarships for dedicated peace and development leaders from around the world to study at any of its peace centers; in 15 years, Rotary peace centers have trained over 1,300 individuals for careers in peacebuilding in more than 115 countries.
Babalola said graduates of the training will earn practical skills in mediation and arbitration and return to their jobs and communities to utilize them. "In the past, judges, police personnel and other professionals have improved their skills and performance tremendously after such courses at Rotary peace centres," he added.
Francis Xavier Sentamu, the governor of District 9211, promised their support to the centre. "We will identify researchers and assist them. We will ensure the centre delivers to its maximum," he pledged. District 9211 comprises Uganda and Tanzania.